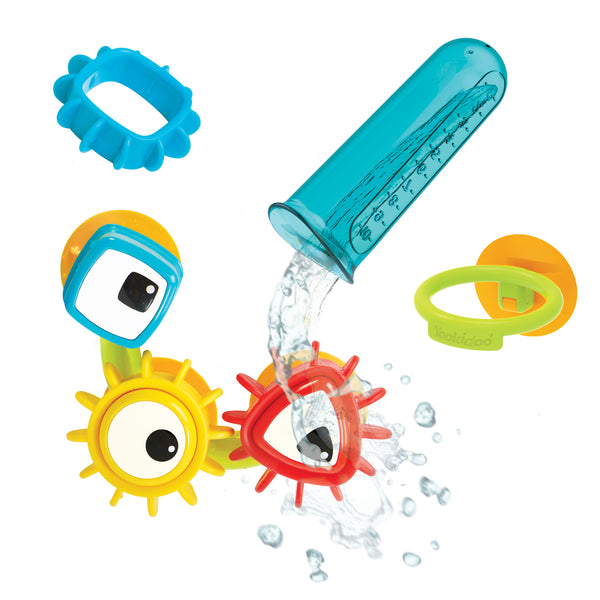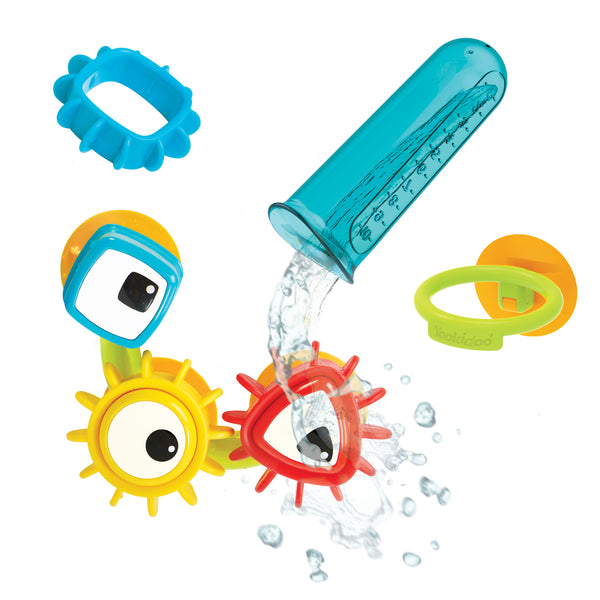 Video
From colorful spinning machine gears in various shapes to a numbered test tube with holder, this set has everything your soon-to-be STEM-lover needs to get experimental in the bathtub.
Attach the sorter to the bathtub with the suction cups.

Fit the gears according to their shapes and colors. Each gear can be fit only with the matching shape, strengthening your child's understanding of different shapes.

Fill up water in the test tube numbered with volume marks and pour over the whole machine so the gears spin delightfully.

Show your toddler how to maneuver the large, easy-to-grasp shapes, and then spin the gears – supporting their fine-motor development.

Encourage color and shape recognition by identifying them as you play together.

Put the test tube into the holder during play or for storage.
Good to Know
Safety first
The gears can be played with water from the tub, so water level and temperature stay constant.
Eco-friendly
No batteries needed and no more running water!
STEM-promotion
This toy promotes STEM learning important to contemporary child development – including sequential thought.
"...We love these toys. We only wish there were more sets! They are great quality and the eyes are NOT stickers so they don't peel off. The oldest set we have is over a year old now and the eyes aren't even scratched. Well worth the price!" | Colby Northcott, LAVEEN, AZ, US
FAQ
Is this product BPA free?

Yes, this product is BPA free.

What age is this product for?

This product is recommended for children ages 1-3 years old. No matter what their age, you should never leave a child unattended in the bathroom or bathtub.

How can I attach the water gears and test tube holder to the tub?

Attach the parts to the tub using the suction cups.
What should I do if I notice mold developing?

It is recommended to properly rinse, drain, and dry out the product after every use. Unless you do that, Yookidoo® bath toys will need a good cleaning every two weeks or so in order to remain mold-free. When a thorough cleaning is required, fill up a bucket with water and add in some vinegar. Let the toy soak in the vinegar water for around 20 minutes. Rinse it off and dry using a paper or cloth towel.

What is the date code and where can I find it on the product?

The Yookidoo date code number helps us track the production date of the product. The date code of the Spin 'N Sort Water Gear is on the bottom side of the test tube holder. It is a 5-digit number that ends with letters.