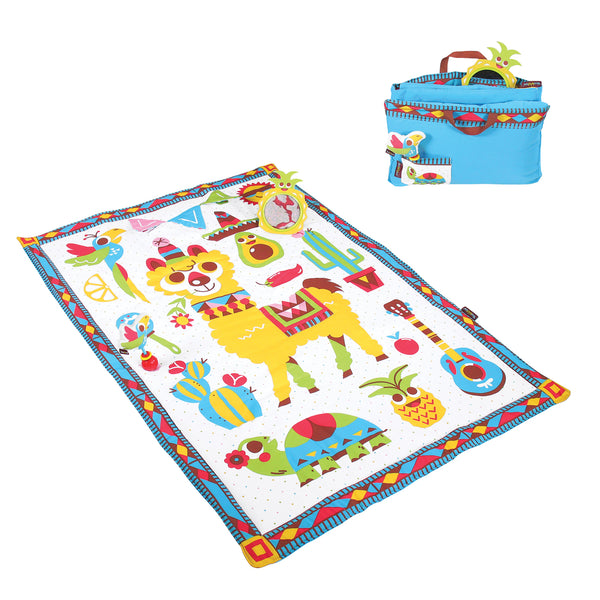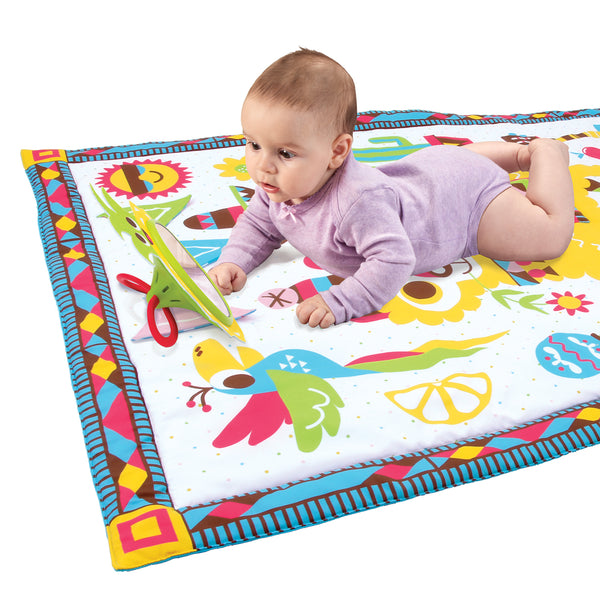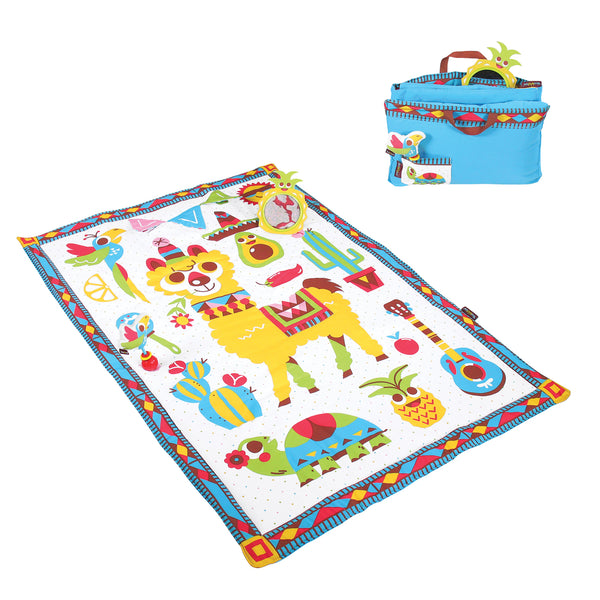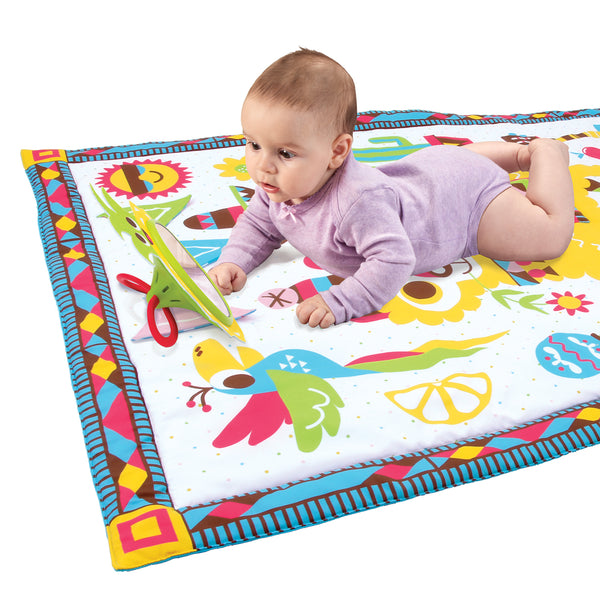 Video
We've got the fiesta in the bag! With all the playmat party essentials—the pad plus room for friends, the music, the colors, and a little something to teethe on—all packed into a carrying bag so baby can party wherever you go.
Unfold the extra-large, thickly padded, soft activity playmat and lay it down on a flat, ground-level surface, indoor or out. When the fun is done, fold the playmat and accessories into its integrated carrying bag with a convenient, hidden pocket for additional toys.

Place your baby on the playmat and let the fiesta begin! The fun trendy illustrations and strong contrasting colors will stimulate your baby's visual development, and the three playful 'peek-a-boo' crinkly flags ensure doing so for your baby's sense of touch.

Introduce the lovable accessories – a motion-activated, battery-operated musical rattle shaped like a parrot and a large standing pineapple-shaped mirror with a rattle and teether.

Make playtime and learning as fun as can be with activities designed for entertaining tummy time, turning over, and sitting up to play. And there's plenty of room on the playmat for you mum or for another baby to join for a playdate.

This machine washable playmat is 57 x 39 inch (145 x 100 cm) size when opened.
Good to Know
Safety first
All Yookidoo toy parts are made and sized for safe playing and teething.
Take-along
The playmat easily folds into the convenient, integrated carrying bag with a hidden pocket for simple storage and travel.
Toy-For-Two
Like all Yookidoo motorized bath toys, the Sensory Bath Mobile upholds the most stringent water safety standards and is a IPX7 waterproof certified bath toy.
This play mat is larger than I imagined and that's a good thing!...a baby or young toddler can play with all his or her favorite toys on it with room to spare...It folds up and tucks right back in its attached case and...The quality is definitely much better than I expected...Very happy with it. | PattyT , NY, US
FAQ
How do I use this product properly?

Never leave a child unattended and never put a playmat or baby seat on a raised surface.

How do I fold the mat into the carrying bag?

An instruction leaflet can be found in the pocket of the playmat bag, or watch this video to learn how.

Do I need batteries for the Fiesta playmat?

3 x LR44 batteries inside the rattle are included for demonstration purposes only. WARNNING: don't use rechargeable batteries.

Can the mat be washed?

Yes. The mat itself is machine washable. Please see mat care label.
Can I wash the rattle and the mirror?

All accessories should be surface washed only! All other parts can be wiped clean with a damp cloth.

Should I place another blanket under the playmat for safety?

The playmat is extra padded and has a cushy feeling. However, if you feel more support is needed, it is okay to place the mat over a blanket or carpeting.

What is the date code and where can I find it on the product?

The date code of the Yookidoo Fiesta Playmat to Bag is on the care label. It is a 5 digit number and ends with letters, for example 12345OLD.