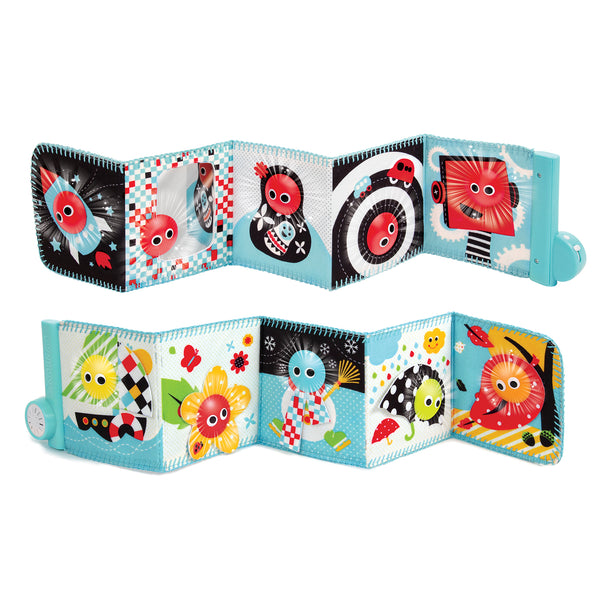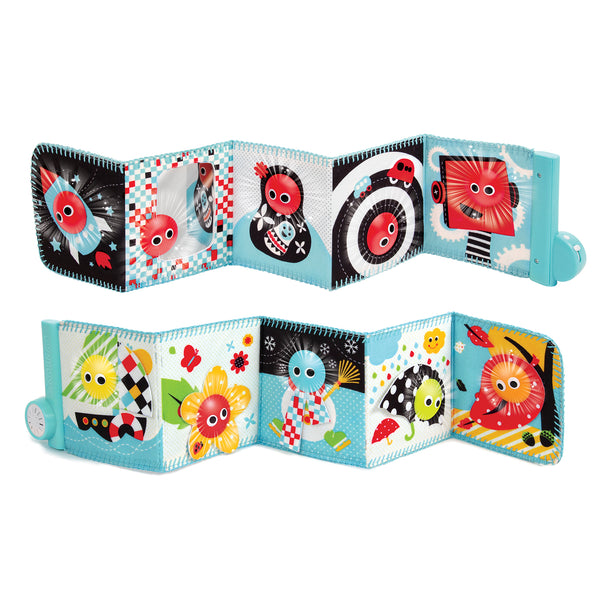 Video
Feed your future bookworm! This double-sided flashing lights and musical book will introduce classical music, celebrate the senses, and charm your baby early on with the fundamentals of reading.
Introduce baby to this battery-operated, double-sided toy book, and lay the groundwork for positive associations with reading as they develop.

Follow the simple geometrical and high contrast drawings on the black, white, and red side of the book. Or turn it over, and show baby the 3D bright and colorful seasons.

Track the ten faces that flash light in sequence, and promote baby's basic muscle skills, visual tracking, and depth perception.

Listen as the book plays classical music by Haydn for relaxation and Chopin for stimulation (repetitive melodies, ten minutes each), promoting baby's auditory skills. It can also be set to mute for silent play.

Show baby the multiple textures and colors, peek-a-boo games, and baby-safe mirror, enhancing their sensory development and tactile stimulation.

Place the book in the crib or stroller, or stand it upright on the floor.

Fold the book easily to take for "reading" on-the-go.
Good to Know
Safety first
All exciting, multi-textured toy parts, even the electronic ones, are made and sized for safe playing and teething.
Versatility
This toy will grow along with your baby, serving multiple purposes through multiple stages – from infant atmosphere, to a more engaged stage, and to active baby "reading."
Curated Music
Chopin waltz, Op.69 No.2 in B minor and Haydn, piano sonata in E minor, H, XVI No.34 have been specially adapted for baby-friendly versions in this toy.
Best product ever for a baby who dislikes tummy time. I was having a hard time doing tummy time for my baby...I tried this to see if it would change my babies reaction...on day 4 my baby went from only doing 2 minutes of tummy time to 10 minutes per session! This has been a game changer..." | Cynthia M. Jimenez
FAQ
Which batteries should I use with the Lights & Music Baby Book?

You should use 3 x AAA 1.5V batteries (not included), of good quality and a known brand. WARNNING: don't use rechargeable batteries.

How do I insert batteries into the book?

To insert batteries, unscrew the battery compartment cover (on the back of the battery compartment at the edge of the book) using a Phillips Head screwdriver. Insert 3 x 1.5V AAA batteries, ensuring correct polarity. Replace the cover and screw tight.

Which tunes are featured in the book?

There are ten consecutive minutes of Chopin classical music for stimulation, and ten consecutive minutes of Hayden classical music for relaxation.

Which modes exist on the book?

The book has off mode, silent mode (lights only), relaxation music, and stimulation music.

How do I change between the book modes?

The slider that changes modes is located on the side of the book, opposite the battery compartment.
How do I clean the book?

Wipe the book clean with a damp cloth.

What is the date code and where can I find it on the product?

The Yookidoo date code helps us track the production date of the product. The date code of the Yookidoo Lights & Music Baby Book is on the product's sewing label. It is a 5 digit number and ends with letters.

Troubleshoot:
The lights of the book are slow. What should I do?

There is music but not lights. Or, there are lights but not music. What should I do?