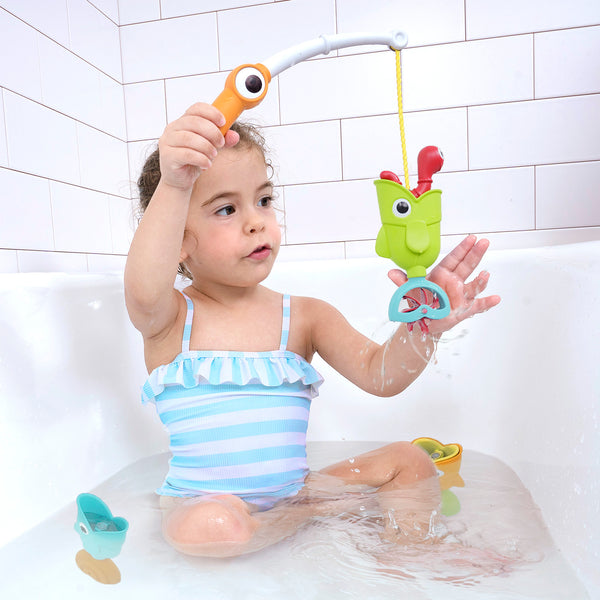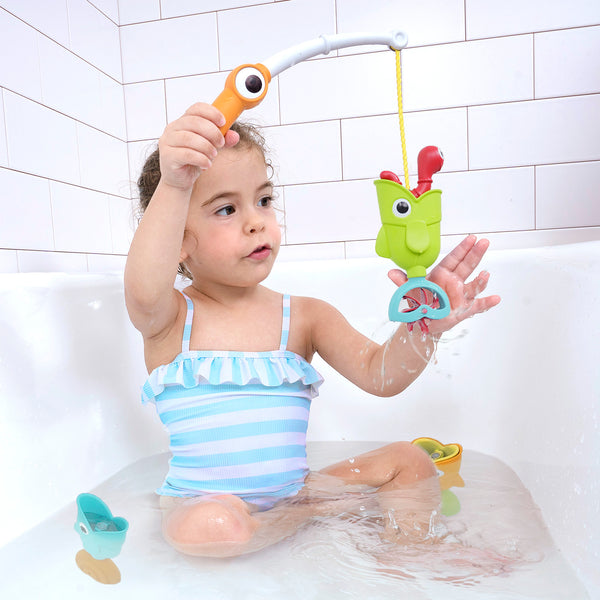 Video
Endless play in the tub with this catch-of-the-day magnetic fishing set! Use the pole and magnetic worm to snag one of three funny fish. Each one emerges with a different, silly water effect, and in one – surprise – a mini fish hiding inside!
Drop the fish in tub water that is at least the height of the fish. Watch with awe as the fish straighten up by themselves to float elegantly with their open mouths facing up, always ready for the catch.

Cast the rod and dangle the worm into the mouth of one of the fish. Catch it, raise it up, and the water that has filled it will spray out the tail. Surprisingly a fish in hiding will peek out from one of them.

The various water effects include a propeller, two streams, or a sprinkler.

Your child can develop hand-eye coordination, pretend to sail the open seas, and enjoy the thrill of catching fish all bath long.
Good to Know
Safety first
The toy can be played with using water from the tub, so water level and temperature stay constant.
Take-along
The toy can be brought and played with in new places like a sink or pool.
Versatility
This toy will grow along with your child and can be used at various levels of ability with and without the fishing rod, through multiple stages.
FAQ
Does the toy require batteries?

This toy does not require batteries and is powered solely by the power of water.

Is this product BPA free?

Yes, this product is BPA free.

What age is this product for?

This product is recommended for children ages 2-6 years old. No matter what their age, you should never leave a child unattended in the bathroom or bathtub.
How do I set the fish at the bottom of the tub?

The fish tails are weighted and will automatically leave the fish mouths open facing up.

What should I do if I notice mold developing?

It is recommended to properly rinse, drain, and dry out the product after every use. Also, store the fish upside down so any remaining water can drain out. Unless you do that, Yookidoo® bath toys will need a good cleaning every two weeks or so in order to remain mold-free. When a thorough cleaning is required, fill up a bucket with water and add in some vinegar. Let the toy soak in the vinegar water for around 20 minutes. Rinse it off and dry using a paper or cloth towel.

What is the date code and where can I find it on the product?

The Yookidoo date code number helps us track the production date of the product. The date code of the Catch 'N' Sprinkle fishing set is located at the bottom of the fishing rod. It is a five-digit number that ends with letters.