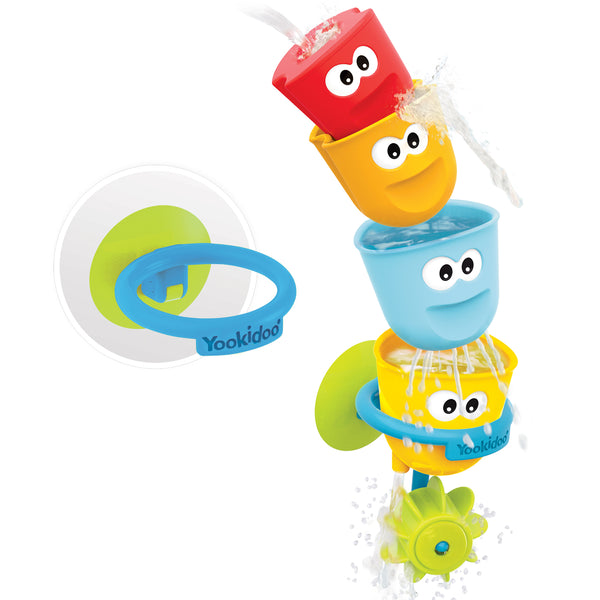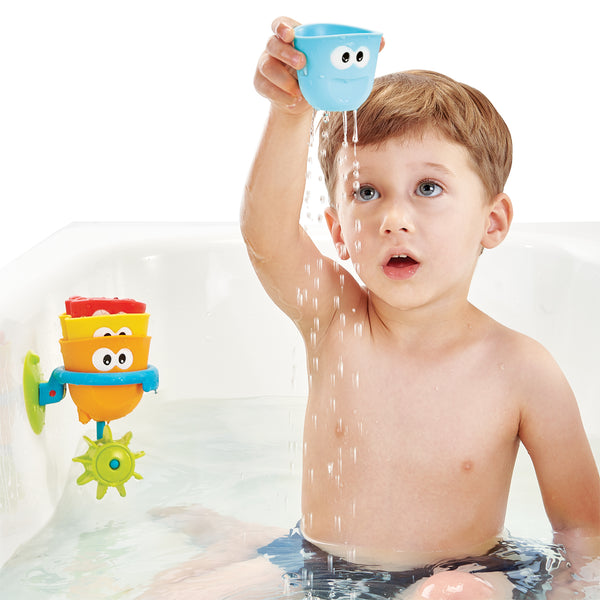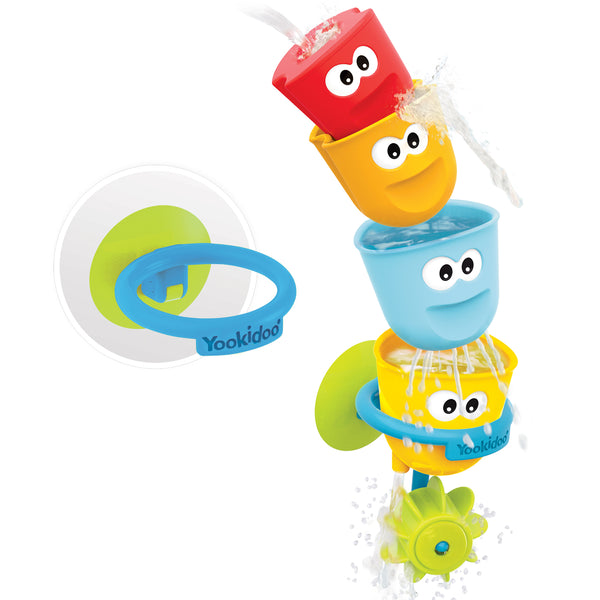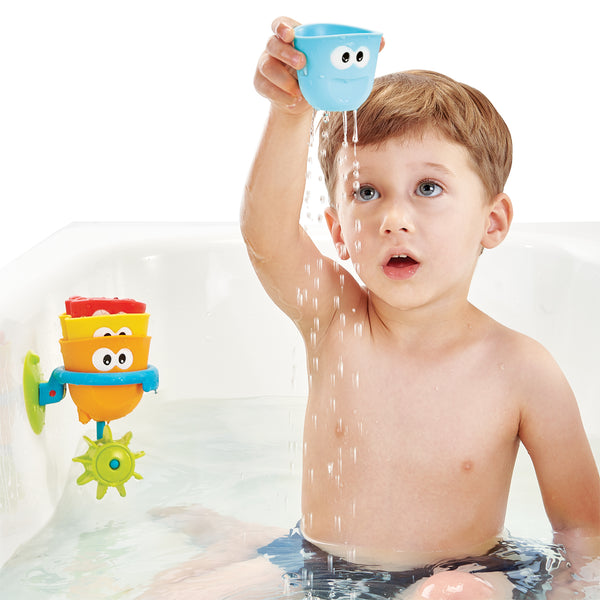 Video
Your child's cup will always be full, with these 3 interchangeable bath cups. Each has a different fun water effect – spraying, straining, or spouting – and there's a peek-a-boo cup, plus a cup-holder for play and storage, too.
Attach the cup holder to the side of the tub, stack the interchangeable cups inside it.

Show your child how to fill up one cup with water and pour over the other cups, setting different water effects into motion, like spouting, spraying, and straining.

Encourage your child to switch out the cups and try different configurations to enjoy the sensation of the various effects, including the peek-a-boo cup that floats up, too.

Stack the cups in the cup holder after playing, for storage until next time.
Good to Know
Safety first
The cups can be played with water from the tub, so water level and temperature stay constant.
Eco-friendly
No batteries needed and no more running water!
Versatility
This toy can also be used outside in a baby pool for more fun outdoors. It can also be enhanced while playing simultaneously with other Yookidoo products.
"Cute little stackable set. It's compact, colorful easy to clean, and not too big/small for a 2 year old who has other bath toys." | Deme
FAQ
Is this product BPA free?

Yes, this product is BPA free.

What age is this product for?

This product is recommended for children ages 8+ months old. No matter what their age, you should never leave a child unattended in the bathroom or bathtub.

How can I attach the cup holder to the tub?

Attach the cup holder to the tub using the suction cup.

Is there a correct way to stack the cups?

No, the cups can be stacked interchangeably.
What are the various water effects made by the cups?

The cups strain, spout, and spray.

What should I do if I notice mold developing?

It is recommended to properly rinse, drain, and dry out the product after every use. Also, store the cups upside down so any remaining water can drain out. Unless you do that, Yookidoo® bath toys will need a good cleaning every two weeks or so in order to remain mold-free. When a thorough cleaning is required, fill up a bucket with water and add in some vinegar. Let the toy soak in the vinegar water for around 20 minutes. Rinse it off and dry using a paper or cloth towel.

What is the date code and where can I find it on the product?

The Yookidoo date code number helps us track the production date of the product. The date code of the Fill 'N Spill Action Cups is on the bottom side of the cup holder. It is a 5-digit number that ends with letters.